A few months ago, I had a blast painting a paper mache mask in the style of Day of the Dead sugar skulls. It was tricky work to get everything even and come out exactly as I envisioned it, but I love the result. It
sold
within days of being listed, and I knew I should definitely make more. I got caught up in other projects though, so I put off painting more.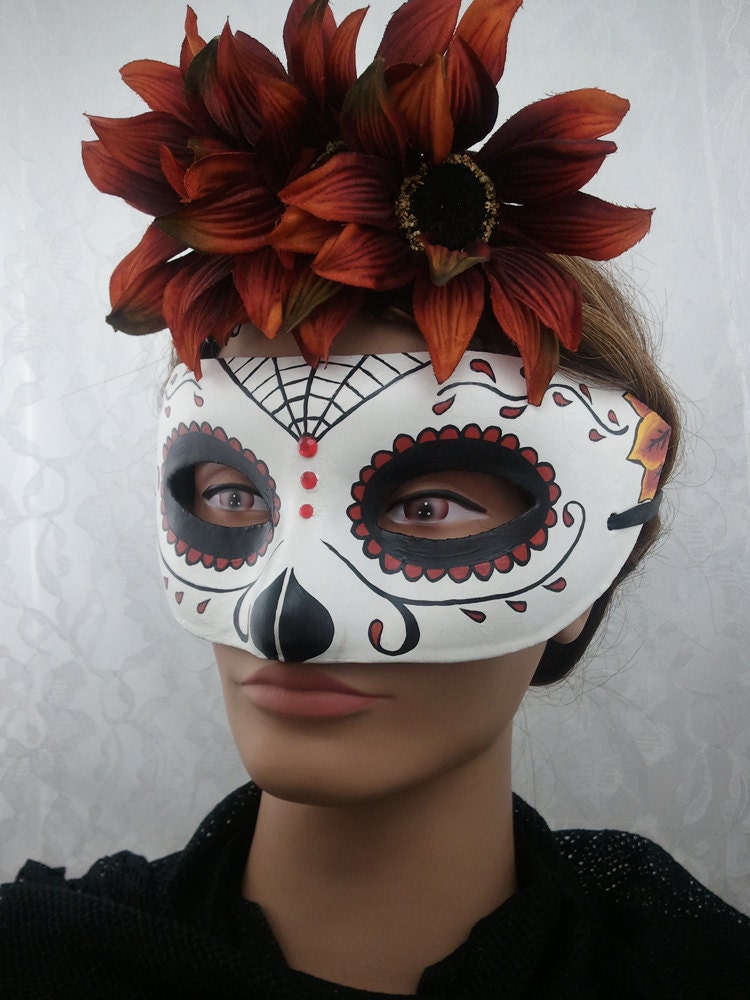 Well, now is the time! I plan on painting at least two more in Day of the Dead style, in different colors and designs of course. I may paint a few others with something a little different, but I'm not sure what. What springs to mind first is leaves and flowers, because of course I love them and I can't seem to stop putting them on masks, whether in synthetic, preserved natural, or painted form!
So what I'm asking from YOU is to submit your ideas! Especially if you'd like to order one for yourself. Remember, there's only 76 more days til Halloween! The paper mache masks are pre-made, but I can alter the eye shape, edge shape, and ribbon color, and I prefer to line the back in a soft-to-the-touch felt. If you'd like, I can even add a lace trim to the edges, or add a cluster of hanging ribbons/rhinestones/beaded chain on one side. The possibilities are endless! I only have five pre-made masks but I have so many fun ideas for them that I may have to get more!
If you'd like to make a custom order, visit
my Etsy store
and send me a message! On the left side of the screen, under my Shop Owner picture, there are two buttons you can click to send me a message; doesn't matter which. Or, if you just have an idea you'd like to share, leave a comment here on the blog or on
my Facebook page
, or you can even
send me a tweet
.
When I get more painted, I will definitely be sharing them here. Look for more updates soon! :)